When you see a woman wearing a white pearl necklace or bracelet, she is most likely wearing Akoya pearls. Out of all the pearls that are sold, these pearls have now become very popular. They have a beautiful luster, are of high quality and due to the fact that they can be cultivated artificially, they have become relatively affordable even for the average person.
The origin and development of Akoya pearls
Akoya pearls are sea pearls most often grown in Japan, but there are also pearl farms found in China, South Korea, Vietnam and Australia. The first cultured pearl in history was cultivated by Kokichi Mikimoto in Japan at the end of the 19th century - and it was the Akoya pearl. Mikimoto subsequently developed the method of pearl cultivation to perfection and founded a company that has been in the pearl jewelry business for over 100 years.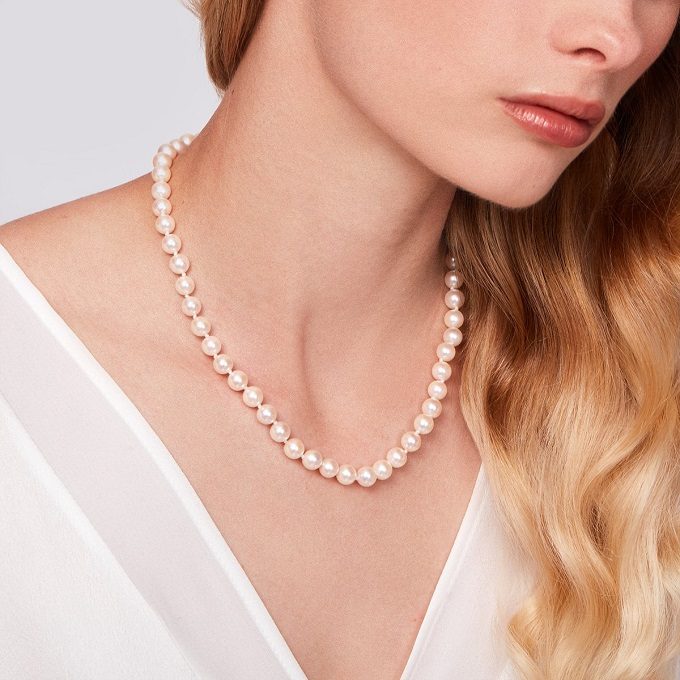 Akoya pearl clams, whether Japanese, Chinese or Australian, artificially produce smaller pearls than other marine molluscs. Their cultivation begins with pearl hunters called Ama (who can dive to depths of up to 33 feet and hold their breath for 2 minutes) collecting these oysters on farms in the cold sea waters around Japan. A bead made from the shell of another shellfish is then carefully inserted into the pearl clam and it is returned to the seabed. This bead then becomes the so-called core of the pearl, because the oyster which is irritated by the foreign object begins to coat it in nacre. 
The characteristics of Akoya pearls
You'll most often see Akoya pearls which are almost perfectly round, pure white in color and which have a beautiful, radiant luster. This is also the case with KLENOTA's range of Akoya jewelry.
The COLOR of naturally occurring Akoya pearls covers a range from snow white to white with a slight pink or silver hue to blue, yellow and cream colored with shades of pink, silver or green. When buying pearl jewelry, you should always be advised if the pearls have been artificially colored.
The SHAPE of the pearl is influenced by the shape of the core which has been inserted into the shell. In most cases, it is usually round (most demand is for perfectly round pearls), but cores in other shapes such as teardrop or oval can also be used. The exception to this are keshi pearls, which are pearls formed without a core.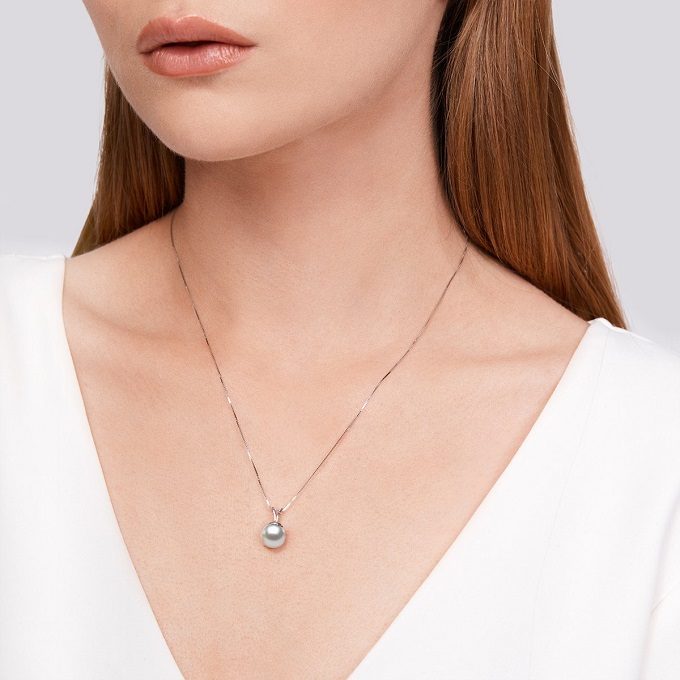 Akoya pearls are on average around 0.3 inches in SIZE, but the pearls are harvested from about 0.07 inches up to a respectable 0.4 inches. Of course, the price also increases with size. Price is also fundamentally influenced by the smoothness of the pearl's surface and its luster.
The LUSTER is the most important factor when evaluating Akoya pearls. It is determined by the degree of light penetration at the surface. The most valuable are those pearls which reflect light like a mirror.
Akoya pearl jewelry and how to care for it
Bracelets and shorter or even longer necklaces which contain pearls of a similar size and quality are the most usual types of pearl jewelry. Indeed, many women have stated that these should form the foundation pieces of every jewelry box. These also perfectly match with gold rings or earrings decorated with Akoya pearls, which you will find in KLENOTA's range both in classic as well as refreshingly modern designs. If you are looking for a timeless, universal accessory, select a bracelet or stud earrings.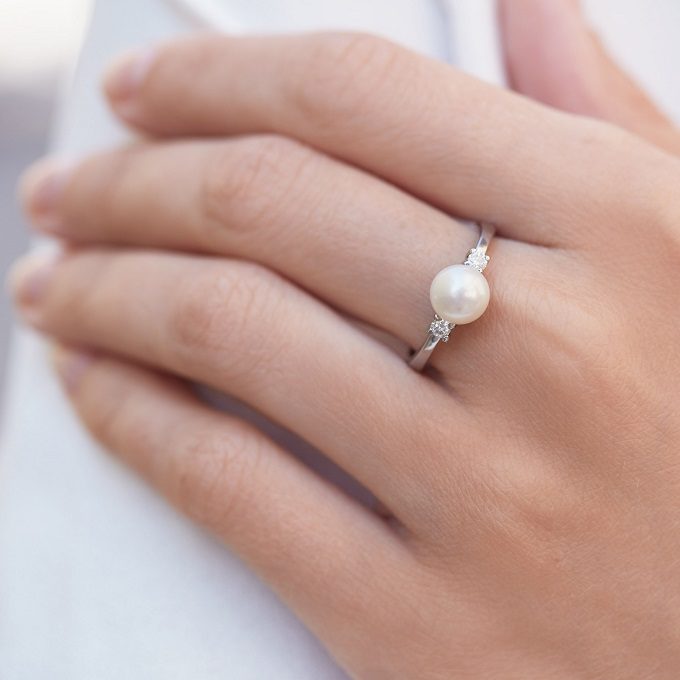 We recommend taking care when wearing pearls. Perfume and hairspray is not good for pearls and you should definitely not shower with them on. Also be careful that the pearls don't come into contact with sharp objects or corrosive substances. To look after them, store them separately in their own box and gently wipe them with a damp cloth before putting them away.
Pearl jewelry definitely doesn't just belong in the jewelry boxes of grandmothers. They can be worn by girls and ladies of all ages and they add a touch of elegance to every outfit. Akoya pearls are treasures of the sea that you will gladly adorn yourself with, all the while showing your love and respect for the beauty that Mother Nature can create.