Engraving precious metals is a traditional way to personalize a piece of jewelry and make it unique. There are many ways to personalize jewelry - you could write a message, a symbol or a date on it to commemorate a significant day. We engrave on 14k gold using a modern laser method. This gold is sufficiently durable which means that the engraving then has a much better guarantee of longevity than engravings done on silver, for instance.
Fonts and symbols
Choose from several fonts, both more traditional as well as modern ones. It is also possible to add a simple symbol.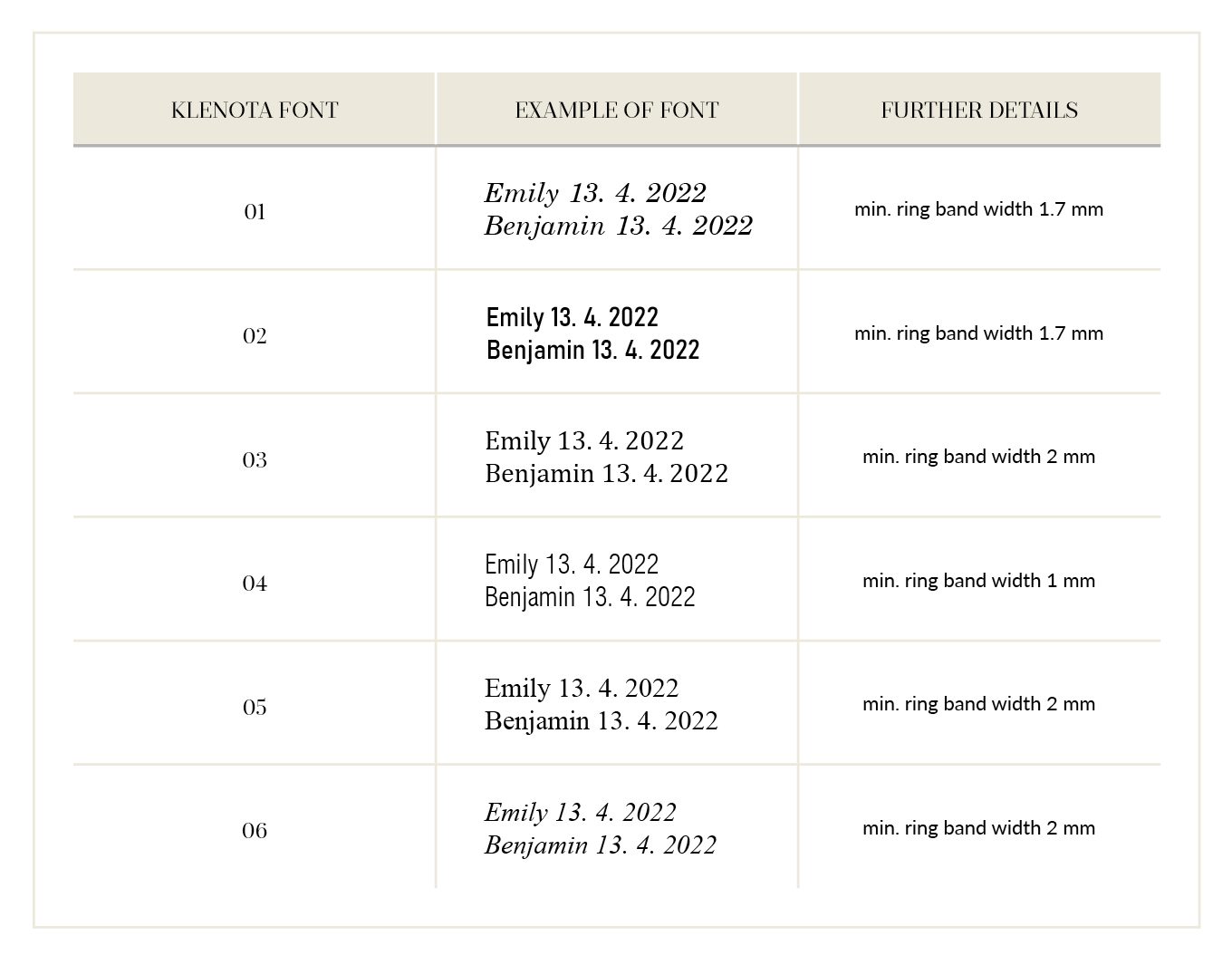 ---
Engravings on rings
We most often engrave the inside of wedding rings.

With

each

type of ring, the engraving is assessed

individually

, based on the type of jewelry, its width, shape and setting. Please ask us about engraving options for the specific pieces of jewelry you have selected and we will be happy to advise you.

For an engraving, the width of the ring should be at least 1.7-2 mm. On narrower styles the engraving is then no longer clearly legible
The cost and timeframe for engravings
Text engravings, including simple symbols, are free of charge for wedding rings up to a year from the date of purchase
We require a 20% deposit for any jewelry with an engraving at the time you make your order. We will make wedding rings with engravings within 4 weeks of the date you place your order.
With every wedding ring we provide lifetime cleaning and the first surface restoration on the ring free of charge.
Modifying engraved rings
With engraved rings, adjusting their size is always a challenge and can damage the engraving in the process. We therefore recommend that you really focus on choosing the correct ring size.

Any jewelry which is engraved is always considered a customized piece and as such

it cannot be returned for a refund

.

We adjust the size of engraved rings only by exception. When considering the new ring size requested, it is always necessary to assess whether the resizing is possible and if so, the size adjustment is priced on an individual, case by case basis.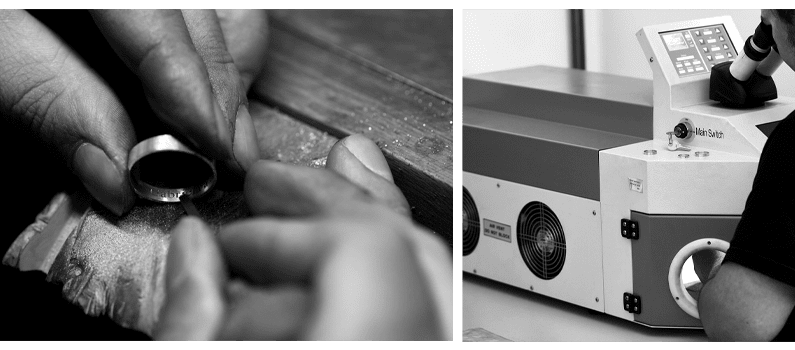 ---
Engravings on other jewelry
You can also add a personalized engraving to other types of jewelry apart from wedding rings.

Smooth medallions

are in particular very suitable for engraving and with an added personal message, they become an excellent gift for a

graduation, birthday,

the birth of a child

, etc.

Returns and exchanges are not possible for jewelry with an engraving due to the fact that it is a customized piece of jewelry.
The cost and timeframe for engravings
The price of engraving other jewelry (except for wedding rings where the engraving is free of charge) is charged based on the number of characters and the complexity of the engraving. When ordering a piece of jewelry with an engraving, we require an

upfront deposit of 20%

. We will make the jewelry along with your original engraving within 4 weeks of the date you place your order. 
If you would like to have your chosen jewelry engraved, please get in touch with us. We would be happy to discuss all the engraving options with you.