Do you ship internationally?
Yes, we ship to most locations worldwide. In most cases, we use a DHL.
What are your shipping costs?
Standard shipping is free of charge, uses local postal services and requires about a week for delivery. It is not fully trackable; however, you will be able to see the status of the parcel.
Express shipping has a flat rate of 37 USD and is fully trackable. We help with all related shipping issues and we care for the parcel from the beginning to the end.
Duties and taxes are not included in the shipping price and will vary from country to country.
When will I get my order?
We usually dispatch jewelry that's in stock within 2 working days from the order placement. Jewelry that is not in stock is usually delivered within two weeks. In the case of special orders (custom made jewelry, size adjustments, etc.) the delivery time may be longer.
If you need your order ready by a specific date, please state so in the order notes.
I need the jewel as soon as possible. Can I have it rushed?
If you need the jewel by a certain date, we are happy to accommodate you. Please make a note of this in the note section on your order or contact us at info@klenota.com before placing the order. 
How do I determine the correct ring size?
The best way to determine ring size is to have your finger measured by a local jeweller. We have also prepared an extensive guide on how to determine the ring size, in which you can find some tips on how to measure it yourself - and how to measure it secretly, too (if you are buying an engagement ring, for example). Be sure to write the ring size in the note on your order.
If I am not sure about the ring size, is it better to order a ring that is a little bigger or a little smaller?
We recommend ordering a smaller size. It is not difficult to enlarge the ring, but size reduction is more demanding. Besides, silver rings can stretch slightly over time. If you are purchasing a wide band, you will get a more comfortable fit by moving up a half size from your typical measurement, because wide bands tend to fit more tightly than thin bands. For rings with many gemstones or engravings, size adjustment may be problematic. In these cases, it is better to have the size measured by an expert.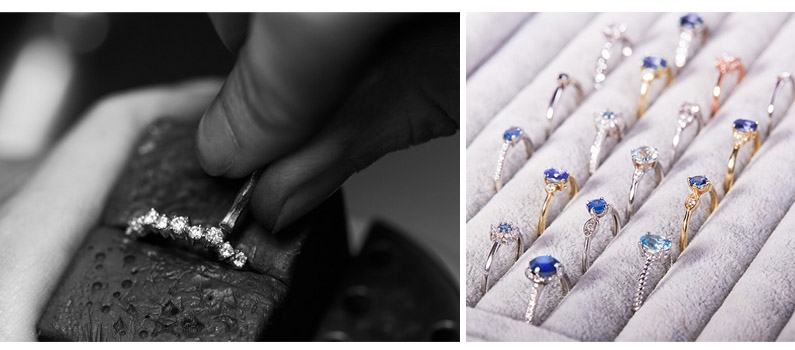 Can I have the ring resized?
We offer a one-time, complimentary ring resizing to all our customers (the customer is responsible for the cost of shipping the ring to us for size adjustment). Please contact us at info@klenota.com to arrange your free ring resizing.
To avoid resizing, we recommend that you have your size measured by a professional jeweller before your purchase. However, we understand that this is not always possible, especially when purchasing an engagement ring.
Is it possible to order custom-made jewelry?
Yes, along with selling jewelry, we also design and produce it. Please contact us at info@klenota.com and we will be happy to create the jewel exactly to your liking. Do not forget to give us as much information as possible, ideally accompanied by photographs. We will reply to you within 48 hours (not including weekends).
What is your return policy for purchased items?
You can return or replace the jewelry free of charge, without giving any reason for the return, within 60 days* of receiving your delivery. Exceptions to this return policy occur if: we have customized the jewelry according to your individual requirements (in this case, an individual agreement is possible), the jewelry has been modified by another jeweller or the jewel has been destroyed, damaged or otherwise degraded. For more information, please visit the returns page.
Do you offer payment plans or financing options?
No, unfortunately we do not offer payment plans at the moment.
Will I receive a certificate with the jewelry?
Yes, we deliver all the jewels with a certificate of authenticity, where you can find information about the exact materials and gemstones from which they are made.
What is a hallmark?
A hallmark is a mark on the jewel that confirms the authenticity and purity of the metal. Also, before hallmarking, all of our jewels get a responsibility mark of the producer or supplier. In the Czech Republic, the Convention on the Control and Labeling of Precious Metals is enforced. See this article for more information about the state hallmark.
What is your warranty on purchased jewelry?
We provide lifetime care for all of our jewelry. We will cover all repair or replacement costs, including shipping in case of manufacturing defects. The warranty does not cover defects caused by wear and / or negligence. For more information, please visit the warranty and repairs page.
Does jewelry from precious metals and stones or pearls require special care?
Yes, if you want your jewels to stay beautiful for a really long time, it is important to take proper care of them. That's why we have prepared a special site for you with recommendations on how to care for jewelry. We recommend that you take off your jewelry in situations where there is a risk of scratching or other damage (such as swimming, gardening, playing contact sports, doing serious kitchen work, using cosmetics or potentially abrasive substances and moving heavy objects).
What if I want to return my order and I lost the certificate / invoice / box?
You do not need any of the packaging to return your order. We do recommend that you return the whole parcel with all of the attached documents, but if you lose any of the accompanying items by accident, we will re-issue new ones for you free of charge.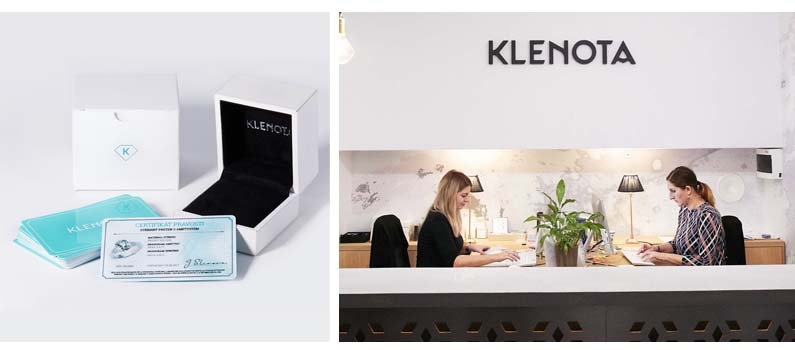 How long does it take for the funds to be returned?
We will send the money back to your account usually within 2 weeks of withdrawal from the contract. In the case of a refund by credit card, the return of the funds may be delayed by 2-3 days (mostly on the side of the beneficiary's bank). Please note that we are not obligated to refund your payment before the return of the goods or proving that the goods were sent to us.
I need to have my KLENOTA jewel repaired. What should I do?
Our professional team in our Prague atelier will be happy to take care of your jewelry. Please email us at info@klenota.com and we will discuss the next steps.