Choosing jewelry & jewelry production
Shipping & payment
Order help
Returns, exchanges & services
If you have any other questions, please contact us at info@klenota.com. Detailed information on purchasing KLENOTA jewelry can also be found in our Terms and Conditions.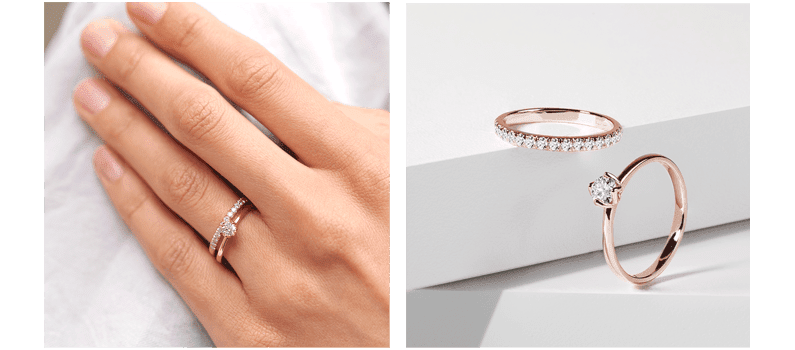 ---
Choosing jewelry & jewelry production
How do I find out the correct ring size?
Please see our Ring size guide for detailed information, including instructions on measuring the ring size by yourself or in secret.
Should I size up or size down if I am not sure about my ring size?
We recommend choosing a slightly smaller size. It is easier to make a ring larger by 1–2 sizes than it is to make it smaller. However, this does not apply to thicker rings where a larger size is the safer choice due to their tighter fit. Resizing can be difficult or not possible when it comes to rings with precious stones or an engraving. In most cases we will exchange the ring for a new one in your preferred size.
You can have your ring resized for free within 60 days of receiving your order. The ring must be unworn. For more information visit our Ring size guide and our Returns & Exchanges page.
Can you make a design in a different color of gold?
Yes, usually we can create one of our designs in a different color of gold – and at no extra cost. Please indicate which color you would prefer in your order notes or let us know at info@klenota.com. You can also click the "Need help?" button under every product description to ask questions. We will contact you with more information.
What is a hallmark?
A hallmark is a specific mark on the jewelry itself that provides information about its authenticity and purity. Prior to being hallmarked, the jewelry is also marked with a maker's mark of the manufacturer or importer. In the Czech Republic hallmarking is overseen by the Convention on the Control and Marking of Articles of Precious Metals. You can find out more information about hallmarks on our blog.
---
Shipping & payment
How much does shipping cost?
Visit our Shipping & Payment page for our current shipping fees, types of shipping and delivery times.
Which countries do you ship to? 
We ship our jewelry all over the world. Since we are based in the EU and ship all orders from the Czech Republic, only EU orders include duties and taxes. Visit our Shipping & Payment page for more information. 
Can I pick up the jewelry in person?
Yes! If you happen to be in Prague, you can pick up your online order at our jewelry studio at Bílkova 19, Prague 1.
You can also browse jewelry in stock at the studio, however, the space is limited, so we kindly ask all customers to book your visit in advance. Let us know which time would work for you at info@klenota.com or call +420 603 219 313 (Mon–Fri 8.30 a.m. – 4.30 p.m).
There is no need to book in advance if you are only visiting to pick up an order.
How much time do I have to pick up the jewelry in person?
Once your order is ready, it will wait for you at our studio for 5 business days. Feel free to contact us if you need more time or add a note to your order with your desired pick up time.
Can I pay by installments? 
No, we do not offer this option at the moment.
---
Order help
How do I select the ring size I want to order?
Go to your Shopping bag and type your desired ring size into the field for notes under every product in your bag, e.g. "Size 49". Refer to our Ring size chart for more information, including tips on measuring your ring size.
How can I find out the status of my order?
We will inform you via email every step of the way. After your order is confirmed, we will get back to you with an approximate delivery date and additional information regarding the jewelry's production. We will also let you know once the order is ready to ship. You can also view your order anytime in your user account.
How do I cancel an order?
Contact us at info@klenota.com and we will take care of everything.
Will I receive the jewelry in a box?
Yes, each piece of jewelry comes in a free ready-to-gift box.
Will I get a certificate with the jewelry?
Yes, we issue a certificate with each piece of jewelry. It includes a description of the material and any stones used as well as the total weight. Jewelry with diamonds weighing 0.03 ct or more also comes with an additional international certificate from the GIA, HRD or IGI. 
Do you have a warranty?
We provide a 2 year warranty on all jewelry. If there are any manufacturing defects, we will cover all repair or replacement costs, including shipping. 
The warranty does not apply to any jewelry that has been modified by another goldsmith, got damaged or broken. See our Warranty page for more details.
---
Returns, exchanges & services 
I chose the wrong ring size, can you adjust it or exchange it?
You can get any ring resized or exchanged for free within 60 days of receiving your order. The ring must be unworn and unmodified (including rings made at your request in non-standard sizes). We charge a fee for resizing after 60 days or if the ring falls under modified jewelry.
Before buying a ring we recommend that you get your ring size measured at your nearest jewelry store or at our studio, if you happen to be in Prague. Visit our Ring size guide for more details.
What is the return policy?
You can return unworn jewelry within 60 days of receiving it. However, you cannot return jewelry that has been modified by us at your request, modified by another goldsmith, broken or otherwise damaged. See our Returns & Exchanges page for more information.
Can I return or exchange jewelry without the certificate and box it came in?
The gift box, KLENOTA certificate and any international certificate from GIA, HRD or IGI (if you received one) are considered a part of the purchased product and must be returned with the jewelry in order to receive a refund. Find more information in our Terms and Conditions.
How long does it take to process a refund?
Once we receive the products, your refund will be processed within 14 days. Card refunds can take a little longer due to transfers between different banks.
Do you modify or repair jewelry made by someone else?
No, we only modify or repair our own jewelry.
How do I take care of my new jewelry? 
Solid gold jewelry will last you a lifetime or even become a family heirloom if you take good care of it. Visit our Jewelry care guide for more tips on how to take care of diamonds, gemstones and pearls as well.
Can you clean or repair my KLENOTA jewelry?
We take care of our jewelry long after it has made its way to you. At KLENOTA you can have your jewelry cleaned for free, for life. The first restoration of a ring's surface is also free of charge. We offer all kinds of warranty and post-warranty repair services – contact us at info@klenota.com and we will confirm the final cost of any modification or repair may require.
Please note that for cleaning or repairs the jewelry must be sent to the Czech Republic, therefore additional shipping costs may arise.