The hallmark declares the authenticity and purity of the jewelry. Before hallmarking, the jewelry is marked with the producer's or importer's mark of liability. In the Czech Republic there applies the Convention on the Control and Marking of Articles of Precious Metals. More information about this international convention can be found at www.hallmarkingconvention.org.
Compulsory hallmarking of the national hallmark of the Czech Republic
gold jewelry with net weight of 0.52 g
silver jewelry with net weight of 3.49 grams
Marking purity
For gold:
585/1000 – 14-carat yellow gold – 585 pure gold parts + 415 parts of other metals;
750/1000 – 18-carat yellow gold– 750 gold parts + 250 parts of other metals;
999/1000 – 24 carat gold – pure gold – contains no additives. Pure gold jewelry is usually not produced because the gold is too soft for jewelry hence right away there is wear or damage.
For silver:
925/1000 – most often marked as 925  
Hallmarking symbols for purity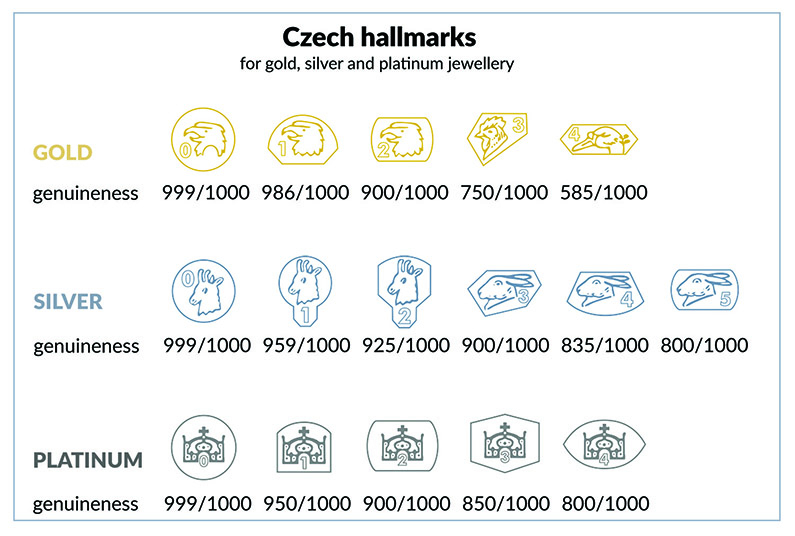 Hallmark types
state hallmark (hallmark guaranteed by the state)
purity hallmark (number specifying the ratio/purity of metal)
production hallmark (name of manufacturer who made the product).
We sell jewelry of the following purities:
14k gold (Au 585/1000)
18k gold (Au 750/1000)
silver (Ag 925/1000)