We have created a collection of engagement rings for the thoroughly modern woman. And what kind of woman are we thinking of? She's elegant and modern, she follows the latest fashion trends but she knows how to adapt them to her own style, she's her own woman and she's independent. She also knows how to go after what she wants and to treat herself to the luxury she deserves. This is the kind of woman that was our inspiration when we designed our latest Le Grand collection.
The idea of dazzling engagement rings which combined the best of the past and the present was then gradually born from this inspiration. We created luxurious and glamorous designs that embody a perfect balance between tradition and modern freshness. We have revitalized clean, classic lines with thought out, original details. And we have given distinctive lab-grown diamonds cut into unusual shapes the leading role.
Dazzle with a very unique ring
The magic of the Le Grand collection therefore lies in its modern yet timeless design which is built around striking central stones in fancy cuts. The collection is dominated by large four-sided diamonds in emerald and asscher cuts as well as elegant oval diamonds. The square asscher cut in particular is truly unique since we get it cut to order for the Le Grand collection. This shape is not usually available in this size and quality.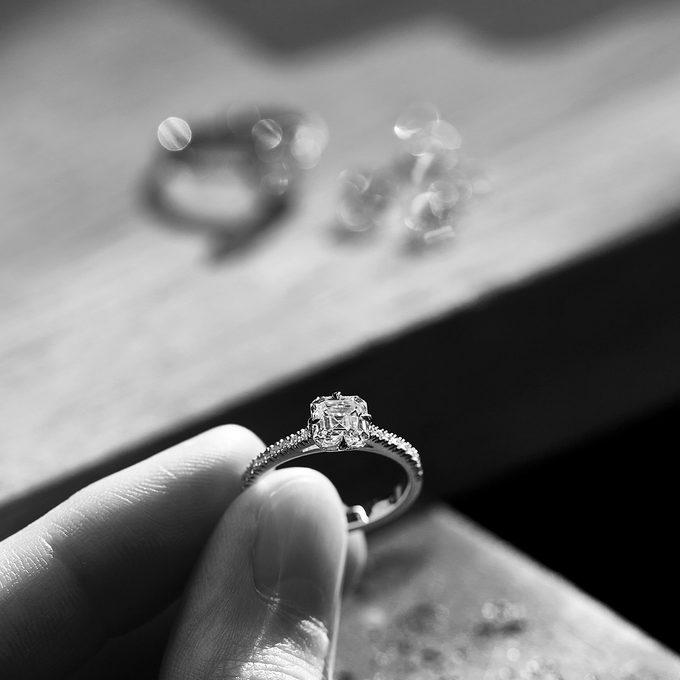 The rings in the Le Grand collection are made of 14k gold and each design is available in white, yellow and rose gold. What's more, each ring comes with a Certificate of Authenticity issued by an international gemological laboratory.
Whether you're choosing an engagement ring or a gift for a round wedding anniversary or a significant birthday, you'll find perfect inspiration in the Le Grand collection.
Why choose lab-grown diamonds?
The story of lab-grown diamonds intended for jewelry purposes only started a few years ago. Lab-grown diamonds are real diamonds - they have the same chemical composition and even identical physical as well as optical properties like natural diamonds. They are just as beautiful, durable and stand out for their high clarity. And each one is an original.
Compared to natural diamonds, they are also more affordable. Lab-grown diamonds thus represent an opportunity to purchase a larger colorless gemstone, since on top of the size, you also buy perfect clarity and internal structure at a good price.