A new year means a burst of fresh energy, a desire for change in our daily routine and of course, the usual New Year's resolutions. And one of the areas we usually want to focus on tends to be our wardrobe and accessories.
So with that in mind, we've put together a selection of trends that will dominate the jewelry world this year.
Jewelry in Very Peri - the color of 2022
Pantone has announced that Veri Peri is the color of 2022. Its color is something in between blue and purple with subtle undertones of red. According to the psychology associated with colors, blue is the color of harmony and peace while purple adds creativity and a spiritual dimension. Overall, this new color has a very positive and uplifting effect, but at the same time it decreases strong emotions and promotes equilibrium and inner balance. Among gemstones, it is best represented by tanzanite.
Pearls in yellow gold
Pearls are not an entirely new thing this year. Their rise in popularity was already evident last year and it is obvious that they will continue to stay as popular. We see their beauty in their purity and symmetry, but now when it comes to pearls, we have also opened up to new trends and modern designs. Examples of this are hoop earrings with a suspended baroque pearl as well as necklaces with smaller pearls that encourage layering. 
Large color gemstones
Lovers of colorful stones and bold rings will be in for a treat this year. Cocktail rings get the green light for everyday wear so you no longer have to see them as jewelry reserved for special occasions but as an accessory that will define you and express your personality at work, when catching up with friends and even at an evening party. And when it comes to choosing the color and type of gemstone, you should have the biggest say. Choose a stone in your favorite color or decide based on a zodiac sign or some other symbolism.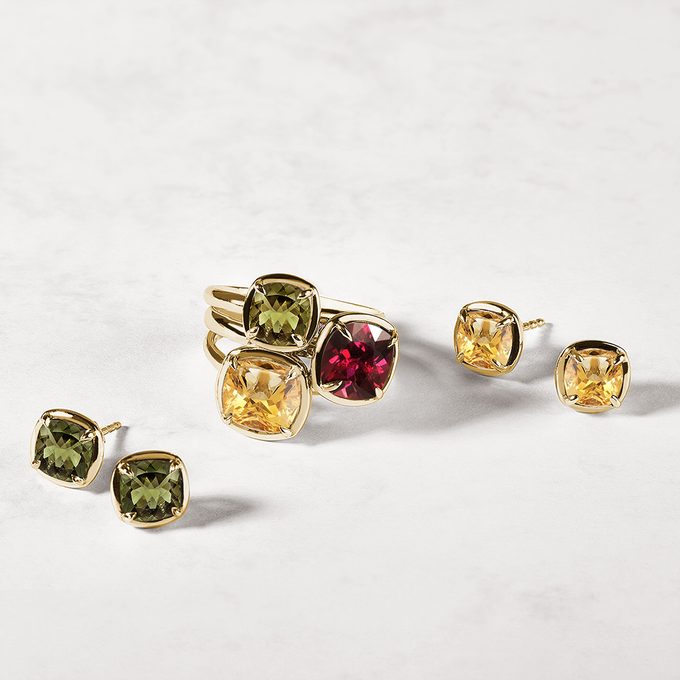 Mineral jewelry in boho style
Jewelry handmade from multi-colored minerals looks light, free and natural. It inspires us to be more spontaneous and to be ourselves. The irregular workmanship reminds us that beauty can also lie in imperfection. These jewels will be appreciated by women who are close to nature and who like to surround themselves with color. The boho trend is not a fashion fad, rather it's an expression of a specific approach to life. So if it appeals to you, don't hesitate to get an accessory that has this feel.
Signet rings
Large signet rings are a very interesting type of jewelry that has been inspired by ancient history. Although today they are considered more of a fashion accessory, they used to have a symbolic function and a defined meaning. Unlike their predecessors, today's signet rings are simpler and without ornamental details. Traditionally they should be worn on the smallest finger of the non-dominant hand which is usually the left. However this is not a strict rule, so you can wear your signet ring whichever way wish.