The bond between a mother and a daughter is one of the strongest. Every mother watches in awe as her little girl grows up into a woman. Daughters in turn look up to their mothers with admiration and love being able to share their own experiences with their moms.
The symbolism of this beautiful, deep relationship can be expressed with matching mother daughter jewelry. Such jewelry can make them both feel a connection and love for each other even when they are not together. What does this jewelry look like and when is it appropriate to give it? We will explain in the following article.
How to choose jewelry for a mother and daughter
We recommend choosing a design that is not explicitly for a child. This way, the beautiful reminder of her relationship with mom will last a daughter until adulthood. The connecting element could for instance be a simple shape or perhaps the same color of gemstone.
A heart theme for example is a great choice as it expresses love and devotion and suits women of all ages. You could also choose a star, an infinity symbol or geometric shapes such as a triangle or circle. A necklace with a locket looks nice too. A piece of jewelry with a colored gemstone would also make a perfect accessory for both.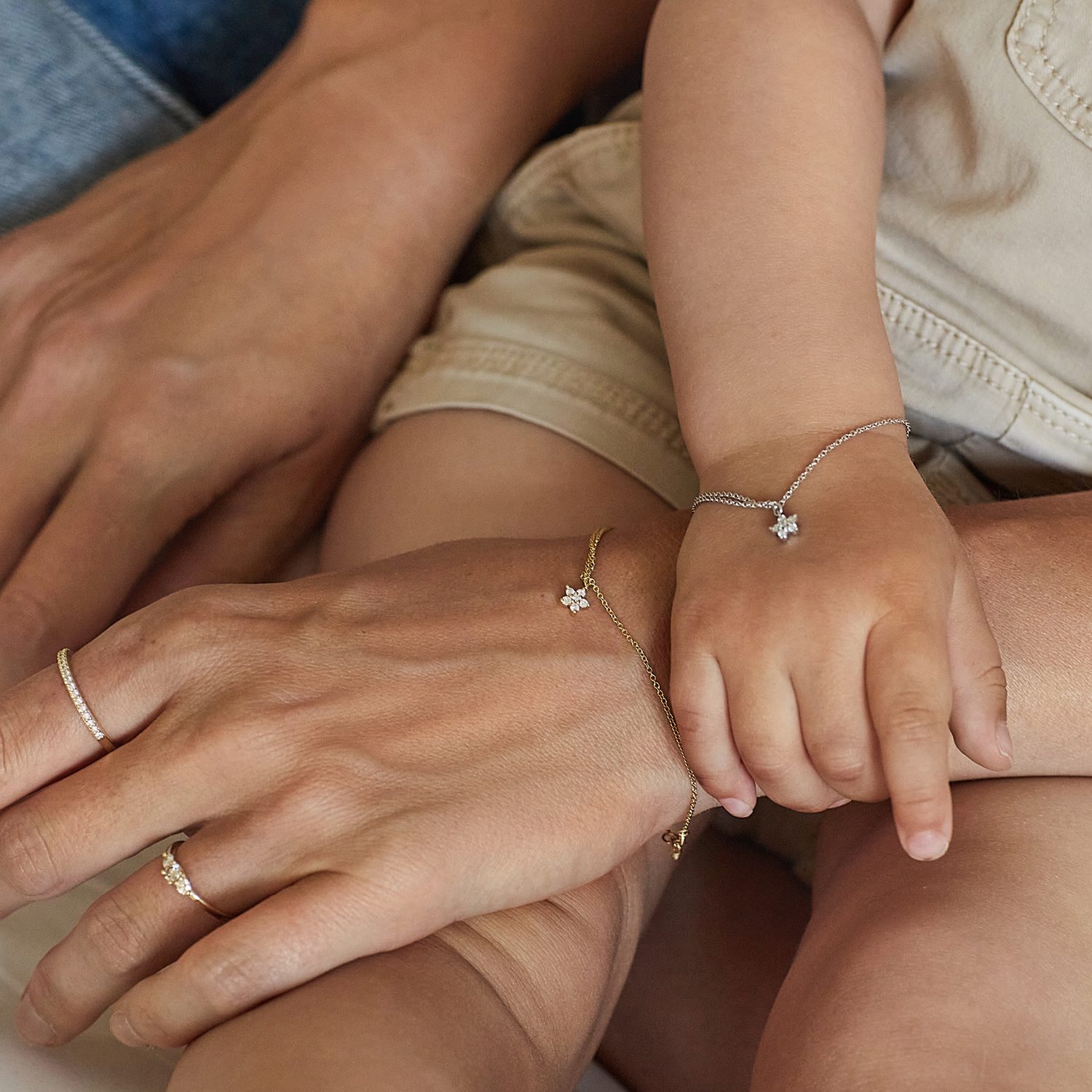 Suggestions for mother daughter jewelry combinations:
A pair of first earrings for a baby or infant and a necklace with the same theme for mom.
Two necklaces with the same pendant: With a diamond for mom and just gold for her little girl. The child's pendant could initially be put on a shorter chain which can later be exchanged for a longer one.
Two chain bracelets with the same theme.
A necklace or a bracelet with a gemstone which is based on the signs of the zodiac.
Personalize it - choose a piece of jewelry suitable for engraving and give it an original look by engraving it with a personal message, name or initials.
On what occasion should you give mother daughter jewelry
You could give such jewelry right at the start, at the birth of the child. It is customary for a man to give his wife jewelry after she has given birth and by making it mother daughter jewelry, the little girl will then receive her first memento while she is still a baby. A clue to creating a matching set could be in the choice of the children's earrings for the baby, whose theme could then also appear in the mother's jewelry.
Another suitable occasion is the mother's or daughter's birthday. And finally, why not just make yourself happy? Let each other know how much you love one another and choose your mother daughter set together.