Summer is all about natural beauty and simplicity. This applies not only to clothes but also to accessories. Minimalism and inspiration from nature are a great way to stylishly showcase your distinctive fashion sense and unique beauty. And this is exactly what the new KLENOTA designer collection called Luster is all about – it's fresh, modern and playful, built on the subtle charm of white freshwater pearls.
Minimalist jewelry for every day
In the Luster collection there are delicate bracelets, earrings - especially dangle earrings, rings, pendants and chain necklaces. They all share clean lines and a simple, universal elegance. They really suit summer dresses and are great for outdoors, but they will also beautifully complement a more formal outfit. You definitely don't have to put them away into your jewelry box at the end of summer, you'll be able to enjoy them all year round. And thanks to their timeless design, these pieces won't go out of style after a year.
What's more, you can easily combine and layer the jewelry from the new KLENOTA collection not only with each other, but also with other jewelry. For instance, bold, color gemstones or massive chains or signet rings will subtly complement white pearls. You don't have to be afraid to let your imagination run wild – go ahead and try out all sorts of playful combinations.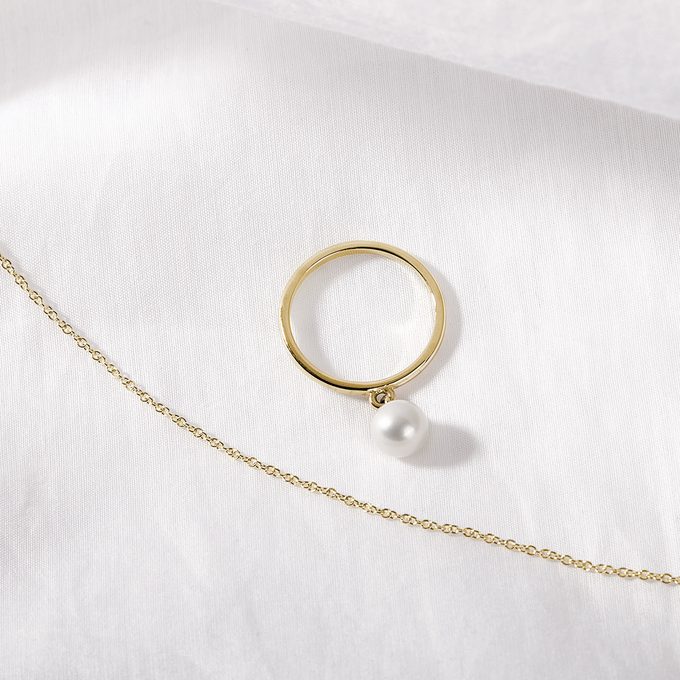 You will be pleasantly surprised by several versatile jewelry pieces that can be worn in different ways. A ring with a small pearl that can be worn on the finger or hung on a chain; hoop earrings with a detachable pearl pendant; double-sided dangle earrings... It's up to you and what mood you're in as to what way you choose to wear the jewelry.
The timeless beauty of gold and pearls
Yellow gold repeatedly surprises with new waves of popularity. Sometimes it hides a little in the shadow of white gold or other new trends, but its classic look always finds its way back into the limelight. Yellow gold jewelry suits all color types.
Even pearls have made a big comeback in recent years, especially by breaking away from the conventional wisdom that they are only suitable for older ladies and formal occasions. Yes, a long strand of pearls has its place in the jewelry box, but pearls can also be modern, fresh and youthful. For the Luster collection, we chose white freshwater pearls as a symbol of delicate feminine beauty and subtle glamour.
Combining yellow gold with white pearls creates an elegant contrast. The gold adds a warm touch to the jewelry in the new collection and perfectly emphasizes the natural luster of the pearls.