It's hard to imagine having a wedding without wedding rings. They have an important role to play during the ceremony itself, but their significance endures throughout the partnership as a reminder of mutual love and devotion. This symbol of love and devotion can look very diverse nowadays and the ring certainly no longer needs to be just a plain smooth gold band.
Durable and strong like your relationship
Your wedding ring will work for you full time. It will accompany you to work, to various events and you may not even end up taking it off for leisure activities or at home. And this is why the two qualities which it should definitely have are that it be durable and long lasting. These qualities come primarily from the materials which the ring will be made from as well as from quality workmanship. You can have fun with the design, but when it comes to the rest, stick with the tried and tested.
One of the best metals for wedding rings is gold, especially 14 karat gold, which is durable and which will not change its shape even when you expose it to unexpected circumstances. But in any event, with regular wear, gold will acquire a patina which will add that little something extra to your ring. If you decide however that you would like to restore its original luster, a visit to the goldsmith will be all you need and it will be like new again.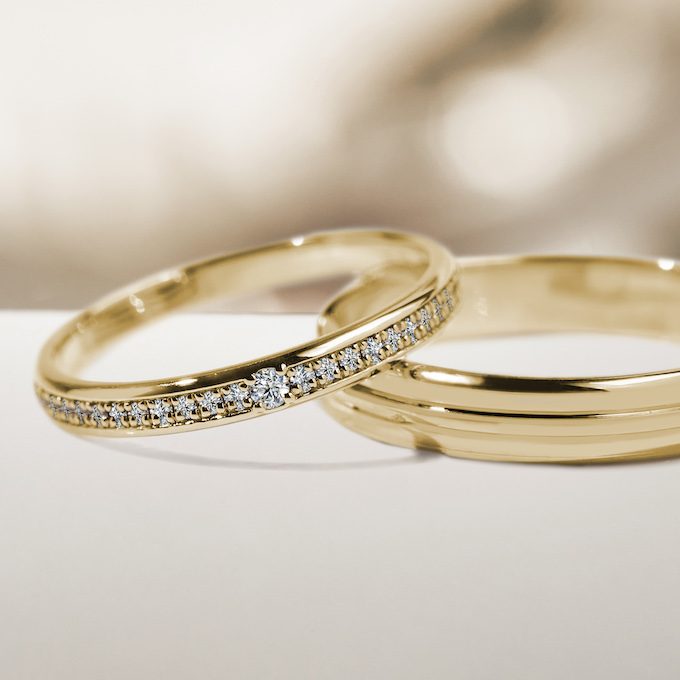 Women's wedding rings with diamonds
Wedding rings for ladies is a category all of its own. Most women want their ring to show not simply the fact that they are now married, but also a little of their personality. These days, a woman's wedding ring is more ambitious and prominent than the way it looked years ago. It is now considered a distinctive personal accessory and it is worn alone or in combination with other jewelry. And diamonds especially suit wedding rings. Setting a diamond into a wedding ring even has its own symbolism. The ancient Greeks believed that their sparkle reflects the eternal flame of love.
Diamonds will be here forever
Diamonds are the hardest naturally occurring substance of all, so nothing can truly damage them easily. But even if you very carefully look after your wedding ring, it might still sometimes fall on a hard floor or it may scrape against something. However diamonds won't break or scratch. Diamond wedding rings come in many varieties so you'll certainly be able to select the right one for you. These are the most popular types that we make with loving care for our brides at KLENOTA: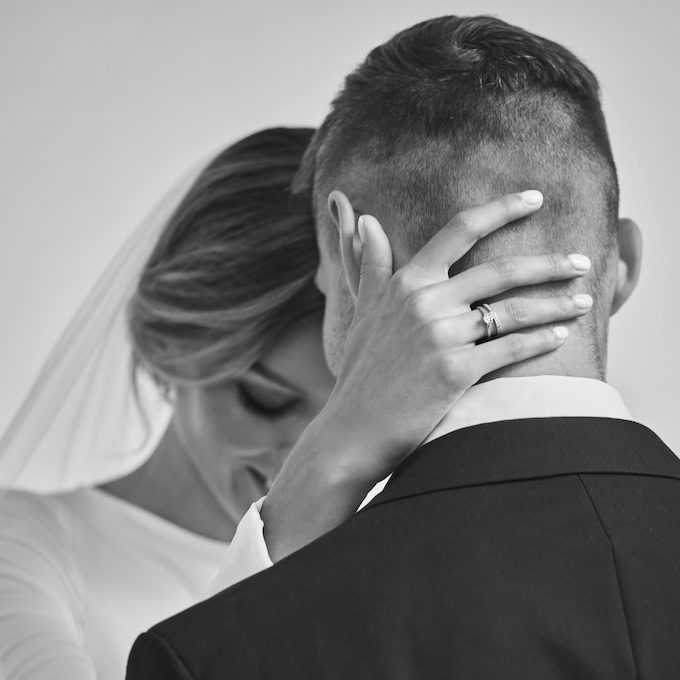 Sparkling: the eternity ring
Eternity means forever, so it is no wonder that this type of ring has become a sought after variation of the wedding ring. It consists of smaller diamonds that are set side by side around the entire circumference of the ring. The history of this style of ring dates back to the 1960s, when it was introduced by De Beers as a suitable gift for a woman on her wedding anniversary. Since then however, it has become a universal piece of jewelry suitable for almost any occasion and it is also appreciated by some brides who love the feeling they get when they see a sparkling storm of beautiful clear diamonds on their hand.
For women who for whatever reason wish to compromise, there are so-called half eternity rings with diamonds set around just half of the ring's circumference. As for combining this ring with an engagement ring, it will look the best with a larger solitaire diamond on a smooth ring. If the engagement ring is complemented by other smaller diamonds around the diameter, the eternity ring should also have the same type of setting for a perfect match.
Eternity rings can have different designs. You will most often see them in a prong setting, whereby the stone is secured in place with claw like prongs. The circumference of the ring is left open, so the shape, color and brightness of the diamond stands out to the maximum.
Another option is the so-called pavé setting, whereby smaller diamonds are set very close to each other and held together by small amounts of metal in between. A row of stones is lined with a thin border of metal
The chanel setting is where the diamonds are held in place on either side by a thin metal edging and they are not separated by anything, visually speaking. This setting is one that looks very clean and elegant. The beauty of the diamonds can thus shine uninterrupted, albeit in a well-defined space.
The friendship ring: A smooth ring with one or more diamonds
Diamonds lift a simple smooth wedding band to something that's a class above. And there don't have to be many of them, just one is enough. If you have a more elaborate or distinctive design in mind for your engagement ring or if you are a fan of minimalist pieces, then this style will catch your eye. A smooth ring with a "hidden" diamond is neutral enough in design as to go well with any other ring. When worn on the same finger as the engagement ring, it will stay discreetly in the background, allowing the engagement ring to shine. You'll also appreciate that it is comfortable which means that you won't even notice that you're wearing it.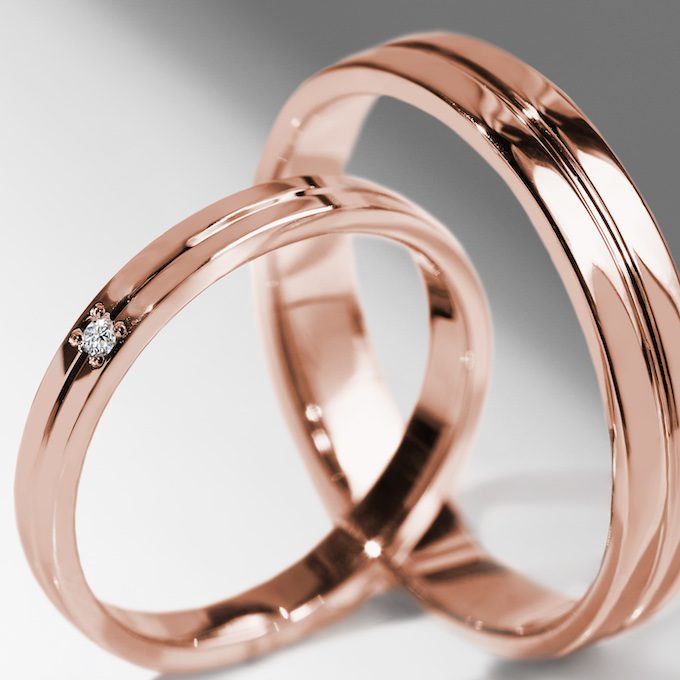 Unmissable: a ring with several larger diamonds all in a row
On the other hand, if minimalism leaves you cold and you expect something more flashy of your wedding ring then don't worry, a wedding ring can also be decorated with larger diamonds. But we recommend that they not stand out too much, as the ring could then give off the impression of an engagement ring. Such a distinctive ring deserves its own space so it would be better to wear it separately, ideally on the other hand to the one which you have your engagement ring on. 
Men's wedding rings
Men generally prefer simplicity, and they therefore most often prefer smooth wedding rings without any unnecessary embellishments. Men's wedding rings also differ from women's rings in that they are larger in size and have a wider band. And these days it is no longer a necessity to completely match the woman's ring with the man's. For instance, it is not unusual for a woman to choose a rose gold ring while the man selects a white gold one instead. While a woman's wedding ring might show off diamonds, its corresponding male one may stand out for instance in the choice of gold finish.
And what are the options for you to choose from?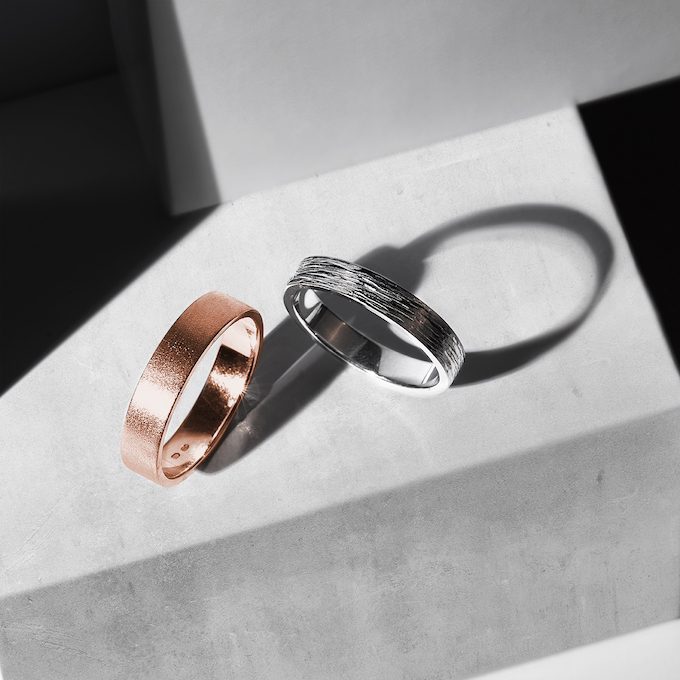 The classic smooth finish
A smooth shiny band is a classic that will never get boring. It looks elegant and classy. With everyday wear, its shine will fade and the ring will begin to take on its own unique character.
Modern matte finish
A method known as sandblasting gives the ring a pleasant matte finish that will withstand everyday wear so the ring will look like new for a long time to come. Scratching will leave no traces on it, so it is suitable for men who often play sport.
An original, irregular finish
Men who are not afraid of a little extravagance or on the contrary who are looking for it, will be attracted to this non-traditional design for the ring with its coarser irregular pattern which brings to mind the bark of a tree. The ring nevertheless has a refined appearance and will go well with suits.
With a diamond
Diamonds are not just the prerogative of women. This is evident in the availability of men's wedding rings which have a diamond in them. They are suitable for those individuals who like to be surrounded by luxury accessories and who frequently move in an environment which demands a great deal of elegance.
Rings custom made precisely according to your wishes
We hand make jewelry at our studio in the center of Prague. We are therefore able to completely modify the appearance of the ring, the setting of any stones in it as well as the end finish on the metal to your wishes. We will be happy to help you with your selection and to discuss your ideas for the perfect wedding ring.
Shop with peace of mind and confidence
You can arrange everything from selecting to ordering online from the comfort of your own home. If you would prefer to visit us in person, we are available for you at Bílkova 19, Prague 1 every weekday and also by prior arrangement on certain Saturdays which are published on our website.
We will make the rings for you to test out in their final formal. Testing out the rings can take place at our studio or at your home. This will save you valuable time during your wedding preparations. Free shipping, a certificate of authenticity and a beautiful gift box are included as a matter of course. We guarantee top quality.