Pearl jewelry has always been a classic in women's jewelry boxes as well as a symbol of refined elegance. This classic has however taken on a new look in every era. These days women can wear pearls at any age and on any occasion without looking too formal or staid. You just need to choose the right jewelry.
In this article we will introduce you to the different types of pearls and give you advice on which jewelry to choose, how to mix and match pearls and how to care for them.
A wide variety of pearls in many colors
When it comes to pearls, the first thing many people probably think of are long strings of pure white, round pearls. However in terms of color, size and shape, pearls come in many different forms. At the KLENOTA jewelry studio, we work with several types of pearls, each with its own specific characteristics and unique allure.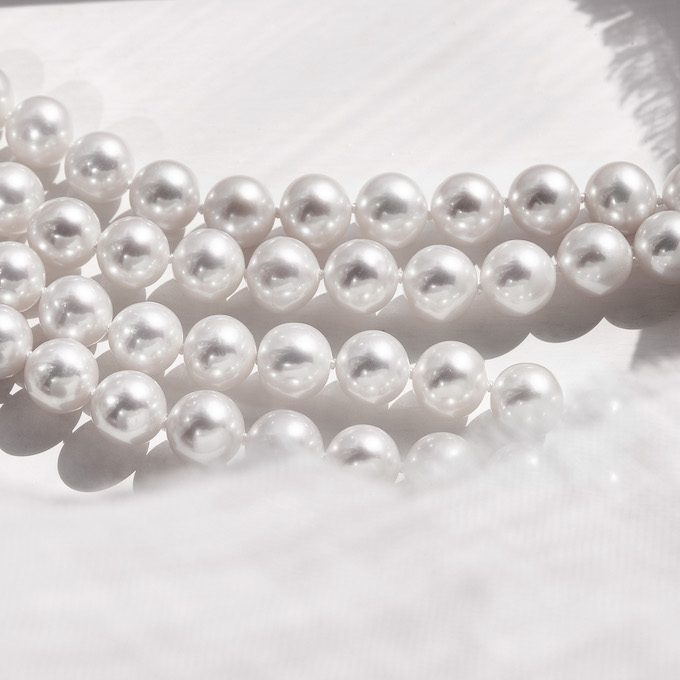 Freshwater pearls
Pearls from lakes or rivers which are commonly called freshwater pearls come in a variety of colors. Apart from pure white, they can occur in various shades of light colored pastels such as pink, lilac or even green. They stand out for their distinctive luster and durability. A big advantage of freshwater pearls is also their affordable price. This is mainly due to the fact that up to 20 pearls can be grown in one pearl oyster shell.
In our collection you'll find a wide selection of jewelry with freshwater pearls. Choose from necklaces, earrings, rings and bracelets in various colors and combinations.
Tahitian pearls
At the other end of the color spectrum are Tahitian pearls, which are among the rarest pearls ever. They come from a special type of oyster with a black rim, mainly in French Polynesia. They are a relatively recent discovery in the world of jewelry, having only made their debut on the market in 1845. They tend to be above average in size at around 10 mm. They are dark green to black in color and have a beautiful metallic luster.
Tahitian pearls have an exotic, mysterious, even mystical feel to them. They suit white gold the best and also look good in combination with white diamonds. In the KLENOTA range you'll find minimalist pearl stud earrings and pendants with a single pearl and luxurious necklaces made of round as well as baroque Tahitian pearls.
Akoya pearls
Akoya pearls are cultured sea pearls, which most often come from Japan. It was Akoya pearls that were first cultured in an experiment by Japan's Kokichi Mikimoto. These pearls occur naturally in pure white but also in subtle colors such as silver or pink. Akoya pearls are on average around 7 mm in diameter.
You'll most often find almost perfectly round, pure white Akoya pearls with a beautiful shiny luster. This is also the case with the Akoya jewelry range at KLENOTA.
South Pacific pearls
Pearls from the waters of the South Pacific are among the rarest types of sea pearls and are highly sought after in the jewelry industry for their size and unique beauty. They range from pure white to a distinctive golden color. They are a few millimeters larger in diameter than Akoya pearls, usually ranging from 10 to 12 mm, but larger pearls around 14-16 mm aren't exceptional.
Baroque pearls
Baroque pearls which have a certain amount of exuberance and playfulness are currently very popular. Their surface can be wrinkled and bumpy in various ways. While with round pearls we value regularity and symmetry the most, the very opposite is true for baroque pearls. What becomes valuable is their originality and uniqueness. No two baroque pearls are ever exactly the same.
These pearls will appeal especially to women who prefer a bohemian casual style, but also to all lovers of current fashion trends.

Pearl jewelry as a versatile fashion accessory
Pearls are a very versatile type of jewelry and a truly rewarding piece in terms of styling. White round pearls can be combined with any color and style due to their neutral appearance.
For everyday wear, minimalist jewelry such as stud earrings and gold chains with a single pearl, either pierced and strung directly onto the chain or as a separate pendant, are more suitable.
However among pearl jewelry you'll also find truly very distinctive designs that will become the dominant element of the whole outfit. This is especially the case with luxurious pearl necklaces and strings of pearls or dangle earrings with large pearls, whose luxurious appearance can be further highlighted by diamonds. It is no coincidence that it is pearls which are the jewelry of choice to go with little black dresses. The simpler the dress, the bolder you can be with pearls, their quantity and size.
How to combine pearls with other jewelry
The easiest way to combine pearl jewelry is to buy a set. The advantage of such an investment is the certainty that the individual pieces of jewelry will go together perfectly, both in terms of the color and size of the pearls and the style of the components. You don't always have to wear the whole set together. You could experiment and wear delicate diamond studs or earrings made of color gemstones with a pearl necklace. Combining pearls and precious stones is a trend right now. For example, you could create a set with a romantic feel by combining white pearls with a piece of gold morganite jewelry.
If you want to let the pearls stand out, keep the other accessories minimalist in style. Delicate gold jewelry won't overshadow them, yet it will accentuate your beauty. White pearls look good with any color of gold. Color pearls, especially Tahitian pearls, look especially good in white gold.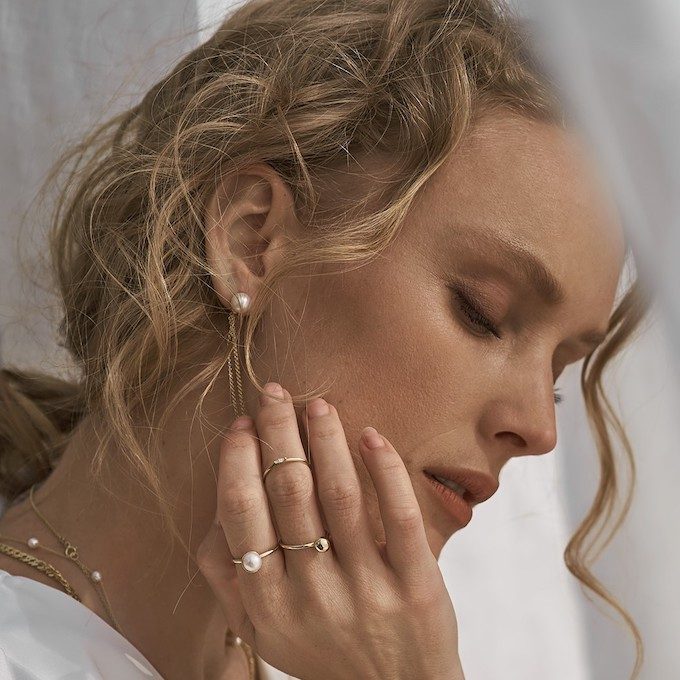 Play around with layering. A striking pearl ring doesn't have to sit on your hand alone, don't be afraid to wear it with a diamond eternity ring or a gold ring without a stone, for instance. Similarly, you could layer a pearl pendant with other chains.
Caring for pearls
Jewelry with genuine pearls is one of the most sensitive and delicate types of jewelry so we recommend paying attention to caring for it properly. Store pearls separately from other jewelry that could damage their surface. Pearls should not come into contact with perfume or other cosmetic products. Always put them away before showering or having a bath. Contact with water is particularly harmful to pearl necklaces and bracelets that are strung on a silk thread.
Conversely, pearls benefit from contact with the skin, which provides them with the moisture they need and keeps their surface fresh. You can replace wearing them regularly with occasionally rubbing them with oil followed by a gentle polish. Use only a damp cloth for cleaning and once in a while bring your pearl jewelry to a jewelry expert for inspection and maintenance.