At the KLENOTA studio, we firmly believe that jewelry really is the best present. Why? If you choose a piece of jewelry made from quality materials such as gold, diamonds, gemstones or genuine pearls, it will stay beautiful for decades. It will also become a lifelong reminder of someone's love and the beautiful moments spent with that person. Depending on the theme of the jewelry or the color of the stone chosen, it can also carry a deeper symbolism and can express more than just words.
All KLENOTA jewelry is hand crafted at our studio in Prague. You will get a Certificate of Authenticity and a designer gift box with every purchase, and as part of our standard customer care, you will also receive complimentary jewelry cleaning for the life of the jewelry. What's more, the exchange and returns period on all our jewelry has been extended to 100 days for all pre-Christmas purchases.
Every girl and woman has her own unique style and tastes so choosing the right jewelry is sometimes not easy. To make your Christmas shopping and decision-making as easy as possible, we've put together an easy guide with original gift ideas and gifts arranged by price as well as by the person they're intended for:
Gift ideas for original gifts
Are you looking to give something truly unique and are wondering how to make jewelry into an original gift? Take advantage of the option to engrave the gift and have a short message, a simple symbol or an important date engraved into the piece of jewelry, which could be a smooth medallion for instance. Another popular way to personalize a gift is to choose a gemstone based on the date of birth: for this, you could draw some inspiration from zodiac signs and birthstones. But you could also choose a unique theme that has a special meaning for the recipient - for example an angel, a key or a cross.
Christmas presents by price
You may not have an exact idea yet of what kind of jewelry you would like to buy, so the main consideration for you at the moment might be your budget. Beautiful jewelry can be bought at different price points. In our collection, there is both elegant minimalist jewelry that pairs with other items very well and that is also suitable for everyday wear, as well as exceptional luxury jewelry with striking diamonds, gemstones or pearls.
Gift ideas for women
Every woman is unique and has her own style that she feels comfortable with. Some women might like drawing attention to themselves with bold colors and accessories while others might prefer a more subtle but well thought out elegant look. Others still might like experimenting and looking different every day.
But choosing a gift for a woman is easier than it seems. All you need to do is to pay attention to the clues - what clothes does she love to wear the most? Does she dress and accessorize in a more distinct style or in a simple one? Does she prefer dresses or sportswear? Does she wear more jewelry or less and does she like to combine jewelry pieces? What are her hobbies? Does she play sports often? Or does she spend all day in a job where she can't wear rings? Does she wear earrings (and does she wear the same ones all the time, or does she alternate them)? Once you're able to answer these questions, it will become clear whether to go down the route of a romantic rose gold heart necklace, minimal diamond studs, or perhaps a bold ring with a colored gemstone.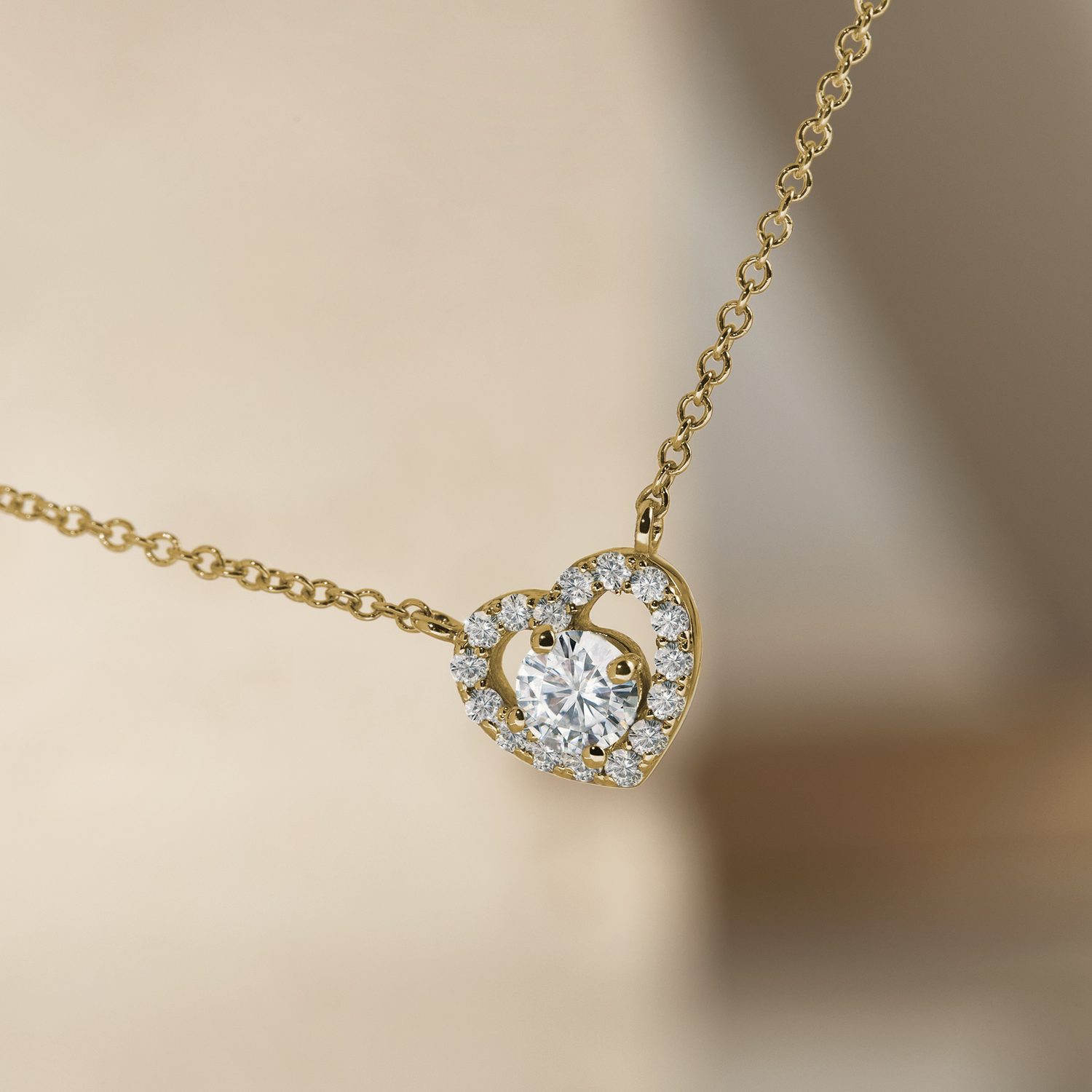 Christmas presents for a girlfriend
Jewelry is a great way to express that you care about your girlfriend and that you take your relationship seriously. You can even use it to signal the start of another chapter of your life together - perhaps when you decide to live together or get married. The choice of jewelry for your girlfriend will therefore reflect what you want to say. It could be a small minimal piece of jewelry to say "I love you", a key necklace for "I want to live with you", a promise ring with a gemstone for "I only want to be with you" or an engagement ring for "will you marry me?"
Christmas presents for a wife
Surprise your wife this year with something beautiful that will make her happy for decades instead of that practical gift that she might need. You could stick to the tried-and-tested classics and opt for diamond earrings or a necklace with diamonds, or you could complement some piece of jewelry that she already has with a matching piece to create a set (such as an emerald ring to go with emerald earrings). Or simply choose an original piece of jewelry or a luxury set for a special occasions.
Christmas presents for a mom
Gifts for parents can be tricky - they keep telling you over and over that they don't need anything, just so long as we're all healthy and spend time together. And of course, in a way, they're right. But if you surprise your mum with a gift box full of sparking jewelry, believe us, they she will no doubt be delighted and every time she looks at this gift, she'll remember her nearest and dearest and the beautiful moments spent together.
Christmas presents for a grandma
Our grandmothers tend to live a very practical life and they don't just buy something expensive to make themselves happy. Because of this, you could make them happy all the more with a beautiful piece of jewelry. They will no doubt wear it with love on any appropriate occasion. The classic and timeless elegance of pearl necklaces and earrings or gold jewelry with rubies or garnets would be especially suitable.
Christmas presents for a friend
Choosing an original gift for a close friend is usually not such a big issue. You know each other very well, you know what she likes and what appeals to her. But surprisingly, many women associate the idea of jewelry as a gift mainly with their partners or husbands, or maybe their children, and the idea of giving jewelry to a friend doesn't even occur to them. But you could be inspired by the current trend of minimal jewelry, for instance, and in this sense, fine chain bracelets or stud earrings would be a great choice.
Christmas presents for a sister
Celebrate your sibling bond with a radiant gift that will be an everlasting reminder of your close relationship. For example, you could choose the same gemstone or a similar theme for the jewelry to one that you wear yourself to symbolically express this unique connection. If your sister prefers elegant classics, choose a diamond pendant or hoop earrings but if she prefers color and experimentation, take inspiration from our natural gemstone bracelets.
Christmas presents for a daughter or granddaughter
Your little daughter or granddaughter is slowly – but actually more than likely quite quickly - growing into a young lady or maybe even a young woman. A piece of jewelry is a great way to celebrate milestones on the road to adulthood and an independent life of her own. When it comes to teenagers for instance, giving them their first diamond jewelry or pearl earrings can be a great idea. You could also opt for a playful theme in the form of a flower, a small key or a bird, or a more classic, minimalist design which can accompany your daughter or granddaughter as she goes from childhood to adulthood.
Gift ideas for children
Gifts that accompany us from childhood into adulthood and that will perhaps be handed down to the next generation genuinely have special meaning. These could be a toy or a favorite book and very often it could also be a girl's first earrings. Jewelry is rightly one of the most popular gift choices, whether it comes to choosing a gift for a baby or a young lady. In addition to earrings, necklaces with original pendants in the shape of a bird, a star or even an angel are especially suitable for older children.